Podcast: Play in new window | Download
Subscribe: RSS
Horrific Human-to-Animal Surgeries! School Yard Male Role Models! The Best Movie Dogs Ever! Get your banana bruised on Public Axis with guest Alfred Perez!
Recorded at the Pubic Axis F-Stop on September 11th, 2014.
00:00 Welcome to the F-Stop!  This week, we welcome long time friend and cartoonist extraordinaire, Alfred Perez! He has collaborated with us for years, creating a comic of our sketch group, promotional posters and t-shirt designs that were used in our movie. Larry and Regan proceed to get confused on why an anime about a nun and boxer doesn't have any spiky yellow hair or tentacles.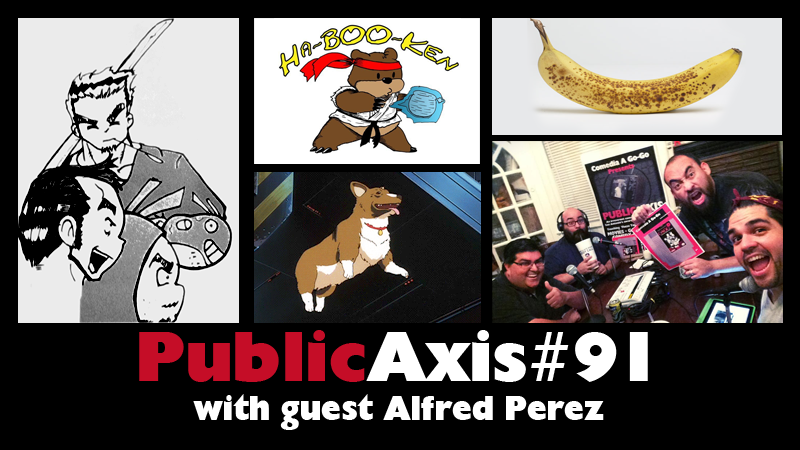 18:45 Yeah, Imma Look Into Dat!  Topic #1:  You are a mad doctor who is surgically transforming people to animals! What animal are you horrifically transforming people into? (Inspired by Kevin Smith's Tusk.)
42:21 Dad's Corner(ed)! Topic #2: Who was THE male role model of your school you were supposed to look up to?
1:03:44 Hey, That's Not Funny! Topic #3: Who is your favorite dog from any movie? (Inspired by an article and study of the impact of movies on dog popularity. For science!)
1:23:34 What Did We Come to Know? Public Axis is an educational program and at the end, we always ask our guests and listeners, "What did you come to know?" Enlighten yourself.
Again, thanks for listening! As always, be sure to check out BLOOD COUSINS, our first feature film! It is waiting for you at bloodcousinsmovie.com! A movie of comedy, terror and revenge – a MUST SEE for fans of this show! Use the promo code FIESTATUBE and score it for $5!
Let your friends know about Public Axis on Facebook and Twitter and keep those Facebook comments coming at our Happy Campers group!
If you have a few extra dimes to spare, please help us help a fan in need. Thank you!