Podcast: Play in new window | Download
Subscribe: RSS
Musicians Turned Actors! Puberty Woes! Libs vs Cons! Survive the game with Public Axis and guest Rooster Martinez!
Recorded at the Public Axis F-Stop on November 6th, 2014.
00:00 Welcome to the F-Stop!  This week, we welcome poet extraordinaire Rooster Martinez. Rooster is co-conspirator of The Blah Blah Blah Poetry Spot as well as regularly performs at Puro Slam. Uncle Roy came, too.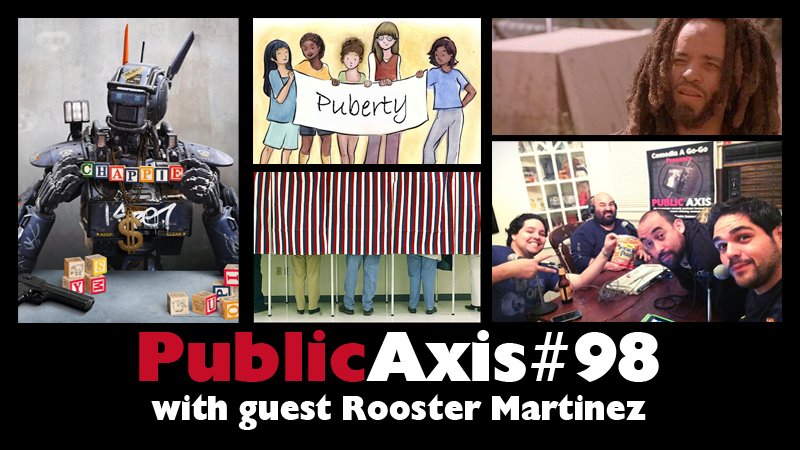 10:26  Yeah, Imma Look Into Dat!  Topic #1: What is your favorite acting role by a musician in a movie? (Inspired by the film, Chappie, featuring Die Antwoord.)
39:17  Dad's Corner(ed)!  Topic #2: How did you learn about puberty? (Oh, no.)
57:47 Hey, That's Not Funny!  Topic #3: Liberals/Conservatives: Pick one and tell us what they do that disgusts you? (Inspired by this study that shows how political viewpoints are heritable.)
1:16:48 What Did We Come to Know? Public Axis is an educational program and at the end, we always ask our guests and listeners, "What did you come to know?" Enlighten yourself.
Let your friends know about Public Axis on Facebook and Twitter and keep those Facebook comments coming at our Happy Campers group!