Podcast: Play in new window | Download
Subscribe: RSS
Greatest Clowns of All Time! Movie Licensed Food Goods! Deadly Voodoo Dolls! Podcasting makes us feel good – it's Public Axis with the Ghostbusters SATX!
Recorded at the Public Axis F-Stop on October 16th, 2014.
00:00 Welcome to the F-Stop!  This week, we welcome our local and proud branch of paranormal investigators, the Ghostbusters SATX.  Representing the team is super pal and frequent guest, Bryan Ortiz, and improv performer, Brennan Loy.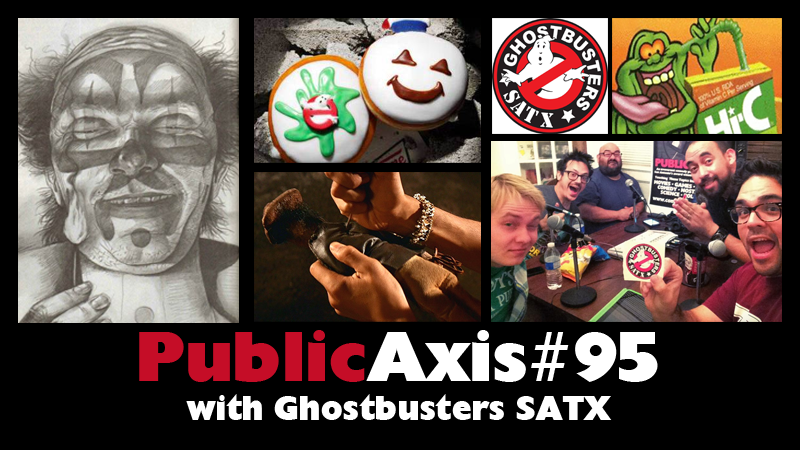 29:59  Yeah, Imma Look Into Dat!  Topic #1: Who is the greatest clown of all time?(Inspired by click and point indie title, Dropsy.)
1:01:01  Dad's Corner(ed)!  Topic #2: What restaurant should have the next movie themed snack? Based on what movie and what should it be? (Inspired by Krispy Kreme's Ghostbusters donuts.)
1:19:18 Hey, That's Not Funny!  Topic #3: Who would you want to make a voodoo doll out of? (Inspired by this article dealing with why stabbing makes us feel good.)
1:40:16 What Did We Come to Know? Public Axis is an educational program and at the end, we always ask our guests and listeners, "What did you come to know?" Enlighten yourself.
Let your friends know about Public Axis on Facebook and Twitter and keep those Facebook comments coming at our Happy Campers group!