Podcast: Play in new window | Download
Subscribe: RSS
Fairy Tales to Flicks! The Most Boring Films! Continuity Errors Galore! A movie-riffic editon of Public Axis with a Super Surprise Mystery Guest! WHO?! Listen and find out!
Recorded at the Pubic Axis F-Stop on October 9th, 2014.
00:00 Welcome to the F-Stop!  This week, we welcome a special mystery guest. She wears many hats in the filmmaking; editing, directing, writing, producing. Who's that girl? You gotta tune in to find out. (Hint: her name rhymes with Rebecca Rodriguez.)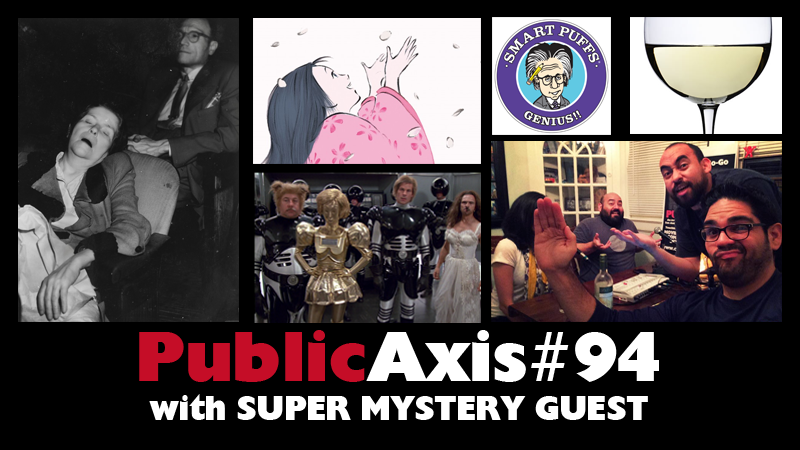 19:25  Yeah, Imma Look Into Dat!  Topic #1: What fairy tale/legend/folklore would you like to see made into a movie? (Inspired by the Studio Ghibli film, The Tale of Princess Kaguya.)
42:05  Dad's Corner(ed)!  Topic #2: What do you think is the most boring movie ever made?
1:10:28 Hey, That's Not Funny!  Topic #3: What is the worst stunt double or continuity error you've ever seen in a movie? (Inspired by this article dealing with "continuity field".)
1:31:06 What Did We Come to Know? Public Axis is an educational program and at the end, we always ask our guests and listeners, "What did you come to know?" Enlighten yourself.
Let your friends know about Public Axis on Facebook and Twitter and keep those Facebook comments coming at our Happy Campers group!
If you have a few extra dimes to spare, please help us help a fan in need. Thank you!