Podcast: Play in new window | Download
Subscribe: RSS
The Slickest Assassins! Classic Jokes! Reefer Madness! Prepare for paranoia after euphoria on Public Axis with guest Jason "Shaggy" Gossard!
Recorded at the Pubic Axis F-Stop on September 18th, 2014.
00:00 Welcome to the F-Stop!  This week, we welcome back long time friend and poet performance artist, Shaggy, who as you should well know as the MC of PuroSlam Poetry. Speaking of which, PuroSlam is celebrating its 15th year with a quinceanera on October 2nd in which a certain few familiar comedian types may show up. (Um, that's us.)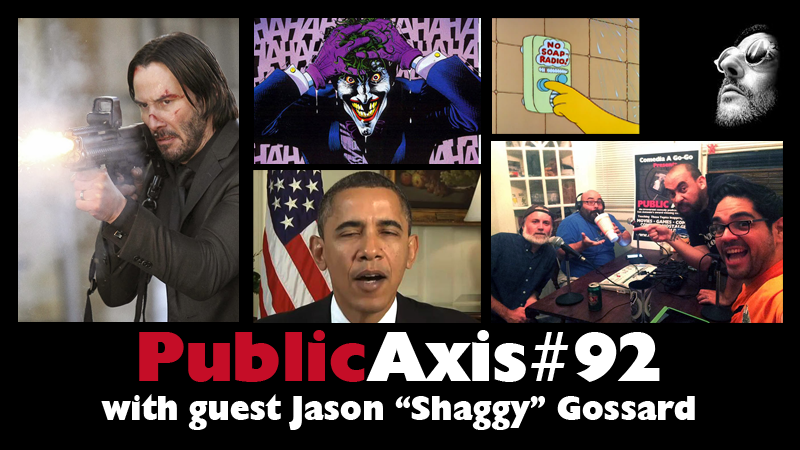 15:47 Yeah, Imma Look Into Dat!  Topic #1:  Who is the greatest assassin in a movie? (Inspired by the film, John Wick.)
36:48 Dad's Corner(ed)! Topic #2: What is your favorite joke? (Inspired by Larry's recent realization/affirmation that humor runs in the family.)
59:27 Hey, That's Not Funny! Topic #3: What's the worst effect that marijuana has had on you or a friend? (Inspired by an study on green stuff and how it makes sad people happy.)
1:23:48 What Did We Come to Know? Public Axis is an educational program and at the end, we always ask our guests and listeners, "What did you come to know?" Enlighten yourself.
Again, thanks for listening! As always, be sure to check out BLOOD COUSINS, our first feature film! It is waiting for you at bloodcousinsmovie.com! A movie of comedy, terror and revenge – a MUST SEE for fans of this show! Use the promo code FIESTATUBE and score it for $5!
Let your friends know about Public Axis on Facebook and Twitter and keep those Facebook comments coming at our Happy Campers group!
If you have a few extra dimes to spare, please help us help a fan in need. Thank you!