Podcast: Play in new window | Download
Subscribe: RSS
Witches and Wizards! Adult Corporal Punishment! Total Extinction! A bucket full of icy cold knowledge from Public Axis with guest Ian McIntosh!
Recorded at the Pubic Axis F-Stop on September 4th, 2014.
00:00 Welcome to the F-Stop!  This week, we welcome Ian McIntosh from Circuit 42, a pop-cultural hub focusing on the latest in comics, video games, anime, science and all-around fun! We chat about some of the amazing guests and interviews he has encountered and babble on comics from the '90s and David Lynch. Nicolas Cage stops by, too.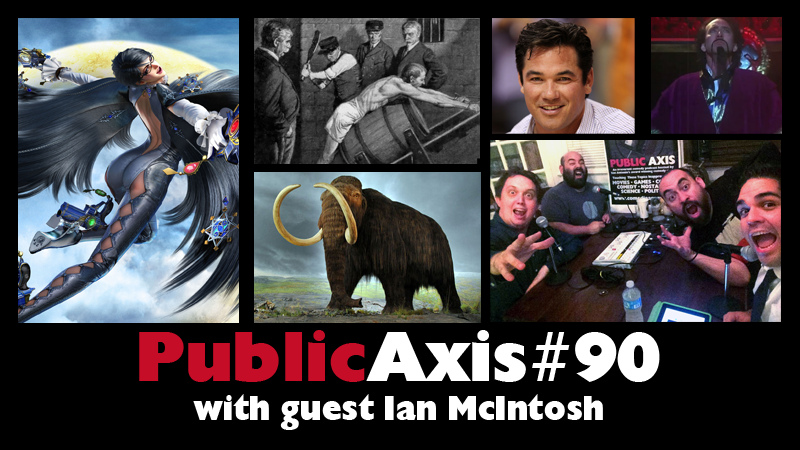 22:01 Yeah, Imma Look Into Dat!  Topic #1:  Who is the greatest witch
or wizard ever and why? (Inspired by the exciting sequel to the action game, Bayonetta 2.)
42:03 Dad's Corner(ed)! Topic #2: If your parents were able to punish you now (as an adult), what would be the most effective way?
56:10 Hey, That's Not Funny! Topic #3: What has gone extinct in your lifetime that you wish was still around? (Inspired by an article on the speedy rate of extinction. DOOM!)
1:18:29 What Did We Come to Know? Public Axis is an educational program and at the end, we always ask our guests and listeners, "What did you come to know?" Enlighten yourself.
Again, thanks for listening! As always, be sure to check out BLOOD COUSINS, our first feature film! It is waiting for you at bloodcousinsmovie.com! A movie of comedy, terror and revenge – a MUST SEE for fans of this show! Use the promo code FIESTATUBE and score it for $5!
Let your friends know about Public Axis on Facebook and Twitter and keep those Facebook comments coming at our Happy Campers group!
If you have a few extra dimes to spare, please help us help a fan in need. Thank you!