Podcast: Play in new window | Download
Subscribe: RSS
Sexy Nerd Talk and Body Part Swap Walk! Stand-Up Comedy Fame and Second Grade School Shame! Red Bull Space Jumps and Seven-Layer Dip Dumps! Only a few of the spectacular good times shared in this magnificent collection – the Best of the Public Axis: Year Two!
Collected from Public Axis March 2013 to March 2014.
00:00 We've been holding on to this collection for a special occasion and there's no better time than now to share this pantheon of golden moments from our second year of podcasting. After a wonderful year of being a part of Lounge Geeks and now finding a new home at One of Us, here's a perfect sampler of what Public Axis is all about – gut-busting good times with great friends, old and new, in the world of comedy, film, music and arts. This is our Tour of Italy, if you will. Our Bottomless Fries. Our Never-Ending Pasta. Our All-You-Can-Eat Buffet. Please enjoy the Best of Public Axis: Year Two.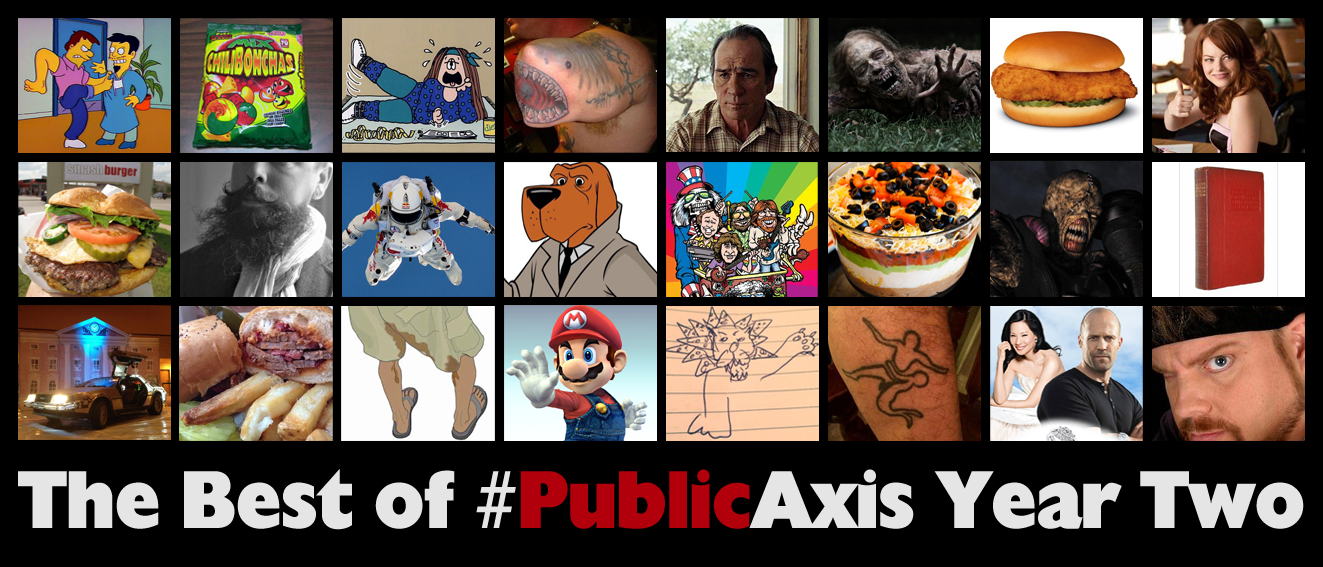 2:41 Body Part Swappin' with J.T. Street from Episode #36.
8:19 Chilibonchas with Dino Foxx from Episode #38.
11:35 Tap Dancing for Cathy with Aaron Aryanpur from Episode #39.
17:49 Hypothetical Tattoos with Bryan Callen from Episode #39 (Bonus).
21:09 The Best Movie Endings with Ryan Stout from Episode #40.
25:58 Working on The Walking Dead (Panel) with Lawrence Mercado from Episode #41.
31:30 Matamoros & College Chic-Fil-A with Bryan Ortiz, Scott Langford and Brant Bumpers from Episode Aaron Aryanpur from Episode #42.
42:04 Disney Reenactments and Sexy Voices with Nerd Alert Designs from Episode #44.
47:12 Regan is a Bully at NDG Sci-Fest with Samson Portillo from Episode #46.
51:16 Beardapalooza with Alamo Beard Club from Episode #49.
54:08 The Red Bull Space Jump with Jay Whitecotton and Brant Bumpers from Episode #51.
59:22 Sacrilegious with Mario Salazar and Blair Thompson from Episode #53.
1:04:23 History of Violence with Jason "Shaggy" Gossard from Episode #56.
1:14:12 Cat Hoarders and Toilet Meals with Aaron Barash from Episode #57.
1:04:23 History of Violence with Jason "Shaggy" Gossard from Episode #56.
1:20:22 Life Long Nemesis with Jackie Kashian from Episode #58.
1:27:33 Real Life Problems and Their Solutions with Richard Morgan from Episode #59.
1:35:03 Time Travel & Cruz/Garza 2016 with Anthony Torino and Jade Esteban Estrada from Episode #60.
1:41:48 Never Buy Your Own Fried Chicken with Joel Settles from Episode #63.
1:47:54 Spashatti with Jacob James Garcia and Aaron Cheatham from Episode #65.
1:54:44 Get Off the Stage, Super Mario Bros with Rachel Feinstein and Michael V Suarez from Episode #67.
1:59:12 Pizza Lion with Matt Golightly from Episode #68.
2:05:18 Merman Wrestler with Rudy Russo from Episode #71.
2:09:19 Taking the Leap with Ashley Quinn and Jay LaFarr from Episode #72.
2:12:36 Devious Devices, Incorporated with The Amazing Johnathan and Anastasia Synn from Episode #74 (Bonus).
Again, thanks for listening! If you want the full episodes from times past, head to comediaagogo.com. As always, be sure to check out BLOOD COUSINS, our first feature film! It is waiting for you at bloodcousinsmovie.com! A movie of comedy, terror and revenge – a MUST SEE for fans of this show! Use the promo code FIESTATUBE and score it for $5!
Let your friends know about Public Axis on Facebook and Twitter and keep those Facebook comments coming at our Happy Campers group!
If you have a few extra dimes to spare, please help us help a fan in need. Thank you!