Podcast: Play in new window | Download
Subscribe: RSS
Board Game Movies! Breakfast of Past and Present! Monkeys With Money! The first installment of the Public Axis podcast on OneOfUs.net! Listen or the girl with hoop earrings will cut you!
Recorded at the Public Axis F-Stop on July 20th, 2014.
00:00 Welcome to the F-Stop! First off, we're excited to be a part of OneOfUs.net and we thank you to no end for listening to our fine program. For first timers, we're Comedia A Go-Go, a comedy collective from San Antonio, Texas.  In Public Axis, we host a weekly round table podcast with guest comedians, filmmakers and various artists. Pulling discussion from our collective love of movies, video games, science news and nostalgia, we aim to pack every episode with big laughs and new knowledge. For our listeners who have followed us from Lounge Geeks and even longer than that, we are eternally grateful!
So, on with the show, this week, we're pleased as punch to welcome San Antonio Twitter queens, Stephanie Guerra (@PuroPincheSA) and Brenda Munoz (@PuroSanAntonio) to our headquarters, the Public Axis F-Stop. They're big on pushing SA events, arts and all-around good times. If you're not familiar with stuff like Flaming Hot Cheetos, Big Red, chamoy or Whataburger, we're about to take you to school.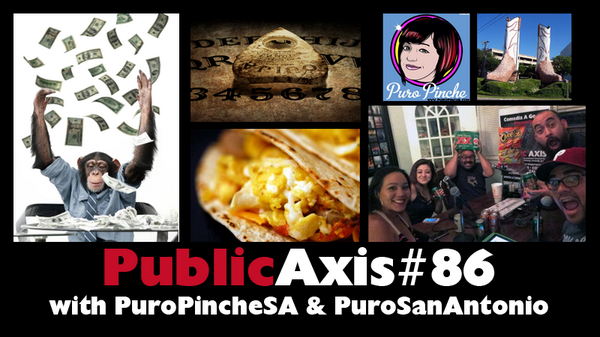 16:15 Yeah, Aight Den!  Topic #1: What's your favorite board game and do you think it would make a great movie? (Inspired by the upcoming movie adaptation of the classic "board game", Ouija.)
37:11 Dad's Corner(ed)! Topic #2: What was your favorite breakfast as a kid and what is your current favorite?
57:27 Hey, That's Not Funny! Topic #3: Are you dumber than a monkey when it comes to money? Tell us about a memorable stupid money decision!
1:16:37 What Did We Come to Know? Public Axis is an educational program and at the end, we always ask our guests and listeners, "What did you come to know?" Enlighten yourself.
Again, thanks for listening! As always, be sure to check out BLOOD COUSINS, our first feature film! It is waiting for you at bloodcousinsmovie.com! A movie of comedy, terror and revenge – a MUST SEE for fans of this show! Use the promo code FIESTATUBE and score it for $5!
Let your friends know about Public Axis on Facebook and Twitter and keep those Facebook comments coming at our Happy Campers group!